Two companies become one.
Until 2017, the AMAS-Consortium was separated into two entities:
AMAS-Engineering GmbH, our service provider, and AMAS-Anlagenbau GmbH, our manufacturing operation. Now, both companies have merged and are working together under one roof as AMAS Technology GmbH.
United as a single company, AMAS Technology GmbH operates faster and adapts more effectively to our clients' needs. Our processes are now more reliable and optimized than ever before.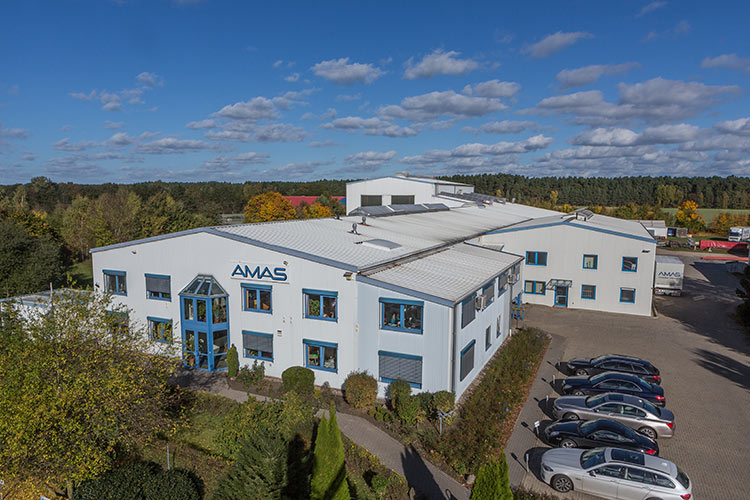 Our Specialized Team
Our clients have very high standards and expect the best results. How do we manage to deliver up to these standards?
Our team of highly qualified engineers, technicians, drawing specialists and experts in machine construction, understand the importance of customized service and delivering effective solutions, designed specifically for each of our clients.
Our design department is equipped with CAD-Workplaces and have access to a variety of software solutions 2D, 3D, and Electronics, among others. Projects are planned, coordinated and documented here. More specifically, specialized machine construction, automated plants, mounting fixtures, and manufacturing equipment is meticulously crafted, adapted, planned, coordinated and overviewed in this office space. Consulting for a variety of industries is one under our core responsibilities. Our clients can rely on us to work hand in hand throughout the most challenging projects from start to finish.
We deliver on time and in tune with the quality standards our clients request and deserve.
We use the following software to find the most effective solution for our clients' challenges:
Mechanical Construction
Catia V5
CCD
Cadra
Autocad
Electrical Construction
Software Development
Siemens Step 5 / 7
WinCC Flexible
FU-Programming (I.e. SEW / Siemens / Lenze / Curtis /…)
Innovative Solutions are crafted here.
A spacious facility in which new ideas are crafted: AMAS Technology is situated within a 4,000m² (43,056 square feet) facility.
This space holds modern CNC-Turn Mill and Modeling Equipment, a Plasma and Laser Cutting Station, two varnishing areas, multiple welding bases and diverse machinery for working metal plates. However, the most important asset of our company is the human factor: our team, whose people are fully committed, qualified and specialized.
With this powerful combination, our clients can rest assure their standards will be met and exceeded.
The following manufacturing technology is available on-site:
Welding Engineering
Welding Certificates:
Machining
CNC-Flatbed Milling Machine
CNC-Machining Center
CNC-Lathe Machine
CNC-Table and Milling
Metal Plates
Laser cutting machines
Edging, folding and bending press
Measuring Technology
Laser tracker
Measurement Arm
For more information about our used machinery click HERE. We cooperate with trustworthy local companies for further manufacturing techniques.